About Me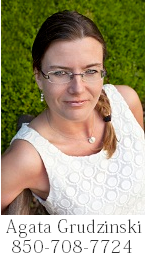 Hello, and thanks for visiting my page. I am actually a second generation Realtor, as my mom is a real estate broker in our native Poland. I was born in Poland, where I graduated from Gdynia Maritime University with a degree in hotel administration. Before becoming a real estate agent, I acquired years of experience in home design, construction, remodeling and more, and in addition to my work as a realtor, I also own and operate cleaning service and a stone design company. This experience has helped me greatly in my real estate career and enables me to offer solid advice to sellers on how to make the most of their property to improve sale values. I received my Florida real estate license in 2009 and have been working with Pelican Real Estate since March of 2010.
I take great pride in being a team player and was recently joined in my real estate practice by Shelley Smith. Together, our years of experience and our willingness to help our customers out 24/7 goes a long way. We work hard to treat our customers the way we want to be treated, and I have always made it my priority both in my work and in my daily life to use my knowledge and experience to provide excellent service as well as to help others whenever I can. I know that I will never run out of learning opportunities, and I do not hesitate to ask my broker or my colleagues for advice and information. Because I am not an American, I feel motivated to work twice as hard to achieve success, and I am not afraid to work with my hands.
Outside of work, I have been happily married for 7 years now and am the proud owner of three beautiful Weimaraners. I have two males, Sir Bolek and his son Stasiu, as well as a female named Sally. I remember when Sally had her puppies two years ago and how it was one of the toughest and most rewarding experiences all at once. Click here to see photos of the puppies!
I am very proud of what I do, and I would love the opportunity to work with you to sell your home or to help you find your dream home. Click here to see what my previous customers have had to say about my services, and I hope to hear from you soon!
Are you on the go?
No problem, take the search with you, locate properties with your moblie phone.
Scan above QR code or simply type m.agatagrudzinski.com on your smartphone browser and start searching.